Flexo Plates

Our core business is supplying high quality digitally imaged flexo plates to your exact specification. Our digital imagers are suitable for producing narrow, mid and wide-web plates for all major printing markets, including labels, flexible packaging and corrugated. All the necessary repro is carried out in-house ensuring that the best possible result is achieved on press. We can image plates up to a size of 50" x 80" (1270 mm x 2032 mm).
Our latest and most advanced offering is Kodak Flexcel NX which gives outstanding quality. The NX System delivers significant on-press efficiencies reducing ink and substrate waste. Customers report presses that come up to colour faster, reductions in ink and substrate waste by up to 20%, and lower overall ink costs. NX Plates are reusable and last 2–5 times longer than traditional digital flexo plates, ultimately requiring fewer plate changeovers and less press downtime. The Flexcel NX System has firmly established a reputation for enabling exceptional print quality, allowing you to compete for business traditionally beyond the capabilities of flexo.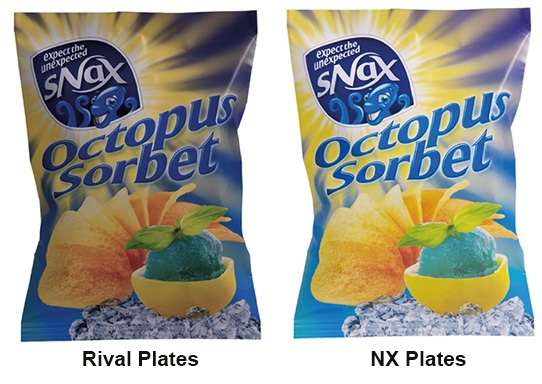 Achieve a competitive edge with fine image reproduction and high print densities. Colours are brighter and cleaner, transitions are smoother, and designs benefit from a wider tonal range and expanded colour gamut. To see the benefits on press for yourself, please contact us to arrange for a text plate to be sent to you. This single colour plate will contain various line rulings and digicap settings to see which settings work best with your own setup.