Esko Press Release:- Supreme platemaking consistency offered by Esko Full HD Flexo technology is helping UK operations develop sector leading services, improve production and win new business and industry plaudits.
"UK operations are under increasing pressure to provide an all-round, high quality, cost effective, range of services that touch on numerous production sectors," explains Paul Bates, Esko Regional Business Manager. "But crucial to that is job flexibility, particularly with run lengths. This is where Esko's Full HD Flexo becomes a critical tool in any solutions portfolio. The ability to provide what specifiers are demanding to ever tighter budgets enables our customers to be highly responsive to ever-changing market requirements."
Results that deliver
Bristol operation Phoenix Printing Plates runs three digital imaging systems, of which two Esko 5080 CDI Sparks, along with Esko colour management and ArtPro packaging prepress software. "We immediately saw a 15% growth in business when we started a trial with Esko Full HD Flexo," comments Steve Collins, Sales Director at Phoenix Printing Plates. "We felt that going Full HD Flexo would make us faster, and the printers we make the plates for stated the quality is so much better. The speed, the no compromise on quality and the improvements to the production process are all making a big difference."
He continues: "We are getting much nearer the quality of gravure and offset customers are demanding. Initially customer interest was piqued by the use of the buzzwords but the results soon swayed their decision," states Collins. "Next to quality improvements, Esko Full HD Flexo enables customers to enjoy lower volume cost of flexo compared to gravure. The industry doesn't move fast but it wouldn't surprise me if we didn't have another CDI Spark in the long run."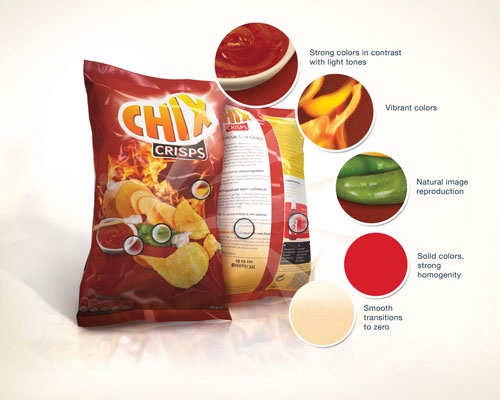 Unique capabilities
Full HD Flexo application"Because the Full HD Flexo dot shape is unique, it delivers a superior flexo plate that details the highlight, shadow and solid areas of a print job," concludes Mr Bates. "Aside from the superior quality and consistency, the assurance of sharp text and brilliant image and the fact there is no need for compromise sets new production standards. These companies have seen the capabilities for themselves and are now enjoying the business improving benefits they bring."
To see the benefits of Full HD for yourself go here to request a test plate.